Disclaimer: This article is directed towards 2nd and 3rd year students in the hope of enlightening them with the knowledge of opportunities that exist beyond the corporate world. This article in no way demeans a corporate internship nor does it belittle people who have already bagged an intern on campus (Kudos to them!). For those of you who want to the path less trodden, this is for you.
"Internships" – the first thing that comes to the mind on hearing this word is the thought of doing something extraordinary and beefing up your resume. Yes, that is the main goal of being an intern, but what if it encapsulates added perks of the possibility of going abroad, working on projects that make your learning curve exponential and makes your resume stand-out (or rather make it unique) from a crowd?
If the previous sentence excited you, read on.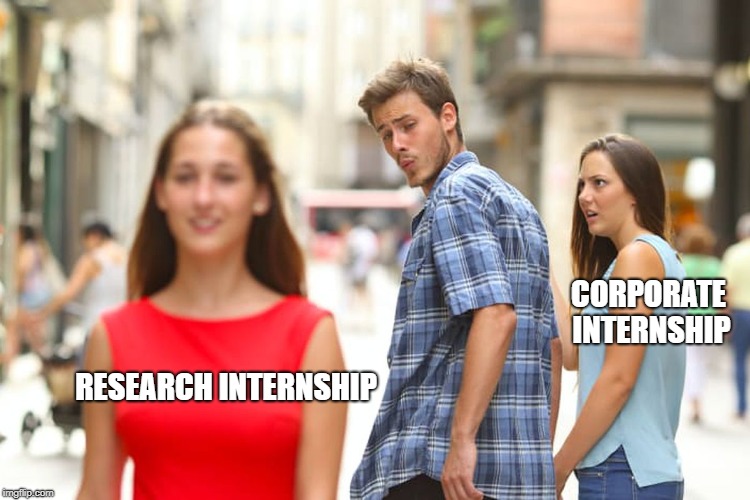 So let's start with the most basic question.
What's a Research Internship?
An opportunity to work in an educational institution under the guidance of renowned Professors on problem statements that they wish to tackle. In other words, you work in a research lab, alongside Masters and PhD students, helping them in small, significant ways towards finding new, innovative means of solving the unsolved or maybe poorly-solved issues.
What do you need to do a Research Internship?
Have extensive knowledge of the problem domain so as to start making an impact right from day 1.
Just kidding. All you need is Dedication, Perseverance and Patience.
Dedication – More often than not, you ll have zero or very limited knowledge of the domain of the problem statement.
Perseverance – Research is hard work. After all, you are trying out new things with no forethought of whether it would actually work. Most of the times, your approach fails. You just buck up and try something different.
Patience and Independence – Professors are busy people. You might get to meet them only few times a week. So you ought to be autonomous in your methodologies and you simply can't expect to be spoon-fed a step-by-step approach to come up with the solution.
What are the advantages of doing a Research Internship?
·       Full autonomy – Right from deciding the field of interest, to the institute and Professor you want to intern under, you have full control over all aspects of your two-month sojourn. But remember, with Great Power comes Great Responsibility. So Choose Wisely.
·        No Hierarchical Structure – There is absolutely no chain of control that you have to follow unlike when in most corporate internships.
·        No Strict Deadlines and Flexible Working Hours – There doesn't exist the concept of fixed working hours nor do have the pressure of looming and hard-to-achieve deadlines. You work when you want to and have the flexibility of taking the odd day off to work from your residence.
·       Most importantly, you can get a Letter of Recommendation from the Professor if he/she is impressed with your work – This is one of the biggest benefits that an RI offers you in case you want to go to Grad School.
·        Get Paid to Learn – Nowhere else would you get paid an ample stipend to actually learn, rather than significantly contribute right from Day 1.
·        Opportunity to go abroad – This series would focus more on this point and what it needs to land an internship abroad.
What are the cons of doing a Research Internship?
·        No Perks that corporate interns would have like free food and swag like T-shirts, bags, etc.
·        It is possible that your two-month work might not lead to a fruitful conclusion as you would be just exploring one possible means to a hard problem that might not be suitable. But the experience gained would last a lifetime.
·        No Pre-Placement Offers – Corporate Interns, often get PPOs meaning that they can be relaxed once they come back from their summer interns. In case you are looking to get placed, you would have to practice for placements alongside your RI project.
So on that note, Research Internships are a fun and fruitful alternative to working in the corporate sector. This series would focus on helping you land an RI and enjoy the Summer of '19.
Next up would be an article on how to apply for DAAD- WISE internship in Germany. Stay tuned for HOW TO – Research Internship Part 2.